Appetizers
Steamed Mussels served with melted butter
$5.95
Bacon-Wrapped Scallops barbequed and served with honey mustard and seafood sauce
$11.25
Charge based on full group size.
Cheeseballs and crackers, mini eggrolls and much more also available.
Main Menu Selections
Boneless Pork Steak
$16.45
Chicken Breast(6 oz, boneless)
$17.75
Strip Loin Steak 10oz
$23.95
+ mushrooms $3.25
+ onions $1.75
Salmon
$23.45
Tofu Veggie Kabob
$16.45**
available without tofu

Lobster
$16.45
+ Lobster cost (you set the size and quantity)
Combinations of any of the above six choices available to groups.
Unlimited Hip of Beef - Includes two desserts
$19.75
+ mushrooms $3.25
+ onions $1.75
Pork Buffet (whole succulent roast pig) - Includes two desserts
(based on min. 75 person group)
$28.45
Chicken(60%) / Pork(40%)
$17.00** most popular item**
Extra meat portions
+ $5/portion
 
Sausages, Chicken breast, Hamburger 6oz fresh,
5oz bacon wrapped sirloin, pulled pork on a bun, Pork steak, BEYOND MEAT Burger or
Pork Back Ribs (1/3 rack)
$5.00
Pork side Ribs
$4.00
Ball Park hot dogs
$3.00
10oz Strip Loin Steak or Salmon
$10.00
 
***add $3.50 as a stand alone menu*** without buffet
Children ages 7 - 12 Includes hotdog and adult option.
$9.95
Infant under 6 (includes hotdog)
$1.00
All of the above items are served with our all you care to eat salad buffet.
Priced on specific group size - set up fee applied if under 100 people. Infant and children not included for group sizing.
Travel cost may apply. Travel cost from Moncton, NB or Turo, N.S. = hours x 2 x $50.
IE - Moncton & Fredricton = 1.5 hours x2 = 3 hr x $50. (round trip) = $150. travel cost.

Discounts to Large Groups (1500 adults) and Sunday events over 100 adults.
Infants not included in group sizing. Discount does not apply to children.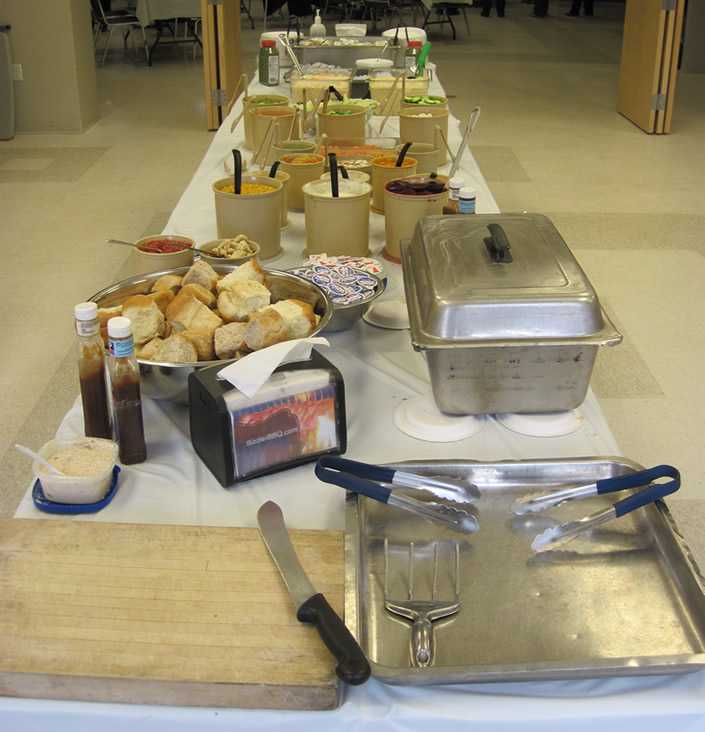 Salad Buffet items included with the menu features:
Baked potato
Potato Salad
Coleslaw
Lettuce
Lemons
Corn Relish
Broccoli
Mushrooms
Green Peppers
Horse Radish (with beef)
Whole Wheat Rolls
French Dressing
Thousand Islands
Tomatoes
Celery
Carrots
Onions
Croutons
Cucumber
Sour Cream
Bacon Bits
Cauliflower
Hot Peppers
White Rolls
Butter
Ranch Dressing
Italian Dressing
Ceasar Dressing